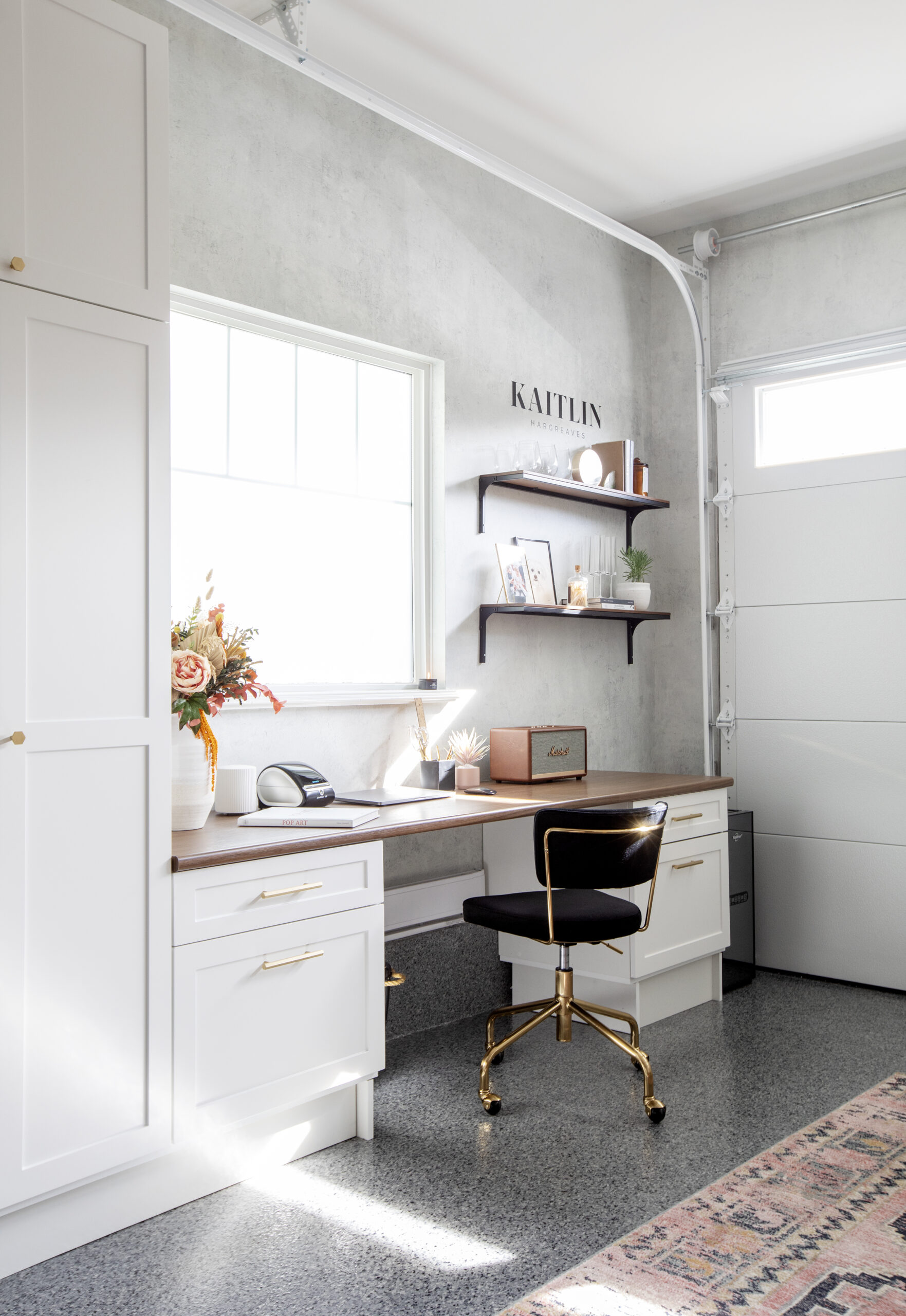 18 Mar

The Office Renovation

IT'S FINALLY HERREEEEEEE. If you've been following along on my Instagram, you know what a fun project this garage/office renovation has been for me. With a big shift in my business from makeup and custom paintings to a heavy focus on e-commerce this last year, I decided it was time to finally find myself a proper office space. The giant pile of clothing and packing supplies accumulating on my dining room table became an issue!  

We have a two car garage which we hadn't parked a car in for over 2 years (you know…. The classic 'fill it to the brim with useless shit we never use' tactic) so Keith thought it would be the perfect space for my home office. Too bad the commute was going to be such a drag 😉

Not a very glamorous place to start, but once all of said crap was cleared out, it was SO FUN putting together all the design elements. I wanted a very practical space, but I knew if I could see all my 'stuff' I wouldn't be at ease. Full cabinetry was definitely the right way to go here. All of our personal storage (seasonal items, back stock of kitchen and bathroom products etc) is behind closed doors and that, let me tell you, is VERY important to me. Working from home has taught me many things, but the main one is – If I see things that need to be done around the house, I have a LOT of trouble focusing on work until they are done. That being said, all the stuff behind those doors are in bins to keep it organized and easy to access.

As for the vibe of the space, I wanted something that was inspiring to work in but also an extension of our home/living space. I started a mood board (see below) and put together my vision. I couldn't be happier with the end result and freaking LOVE working in such a beautiful space everyday.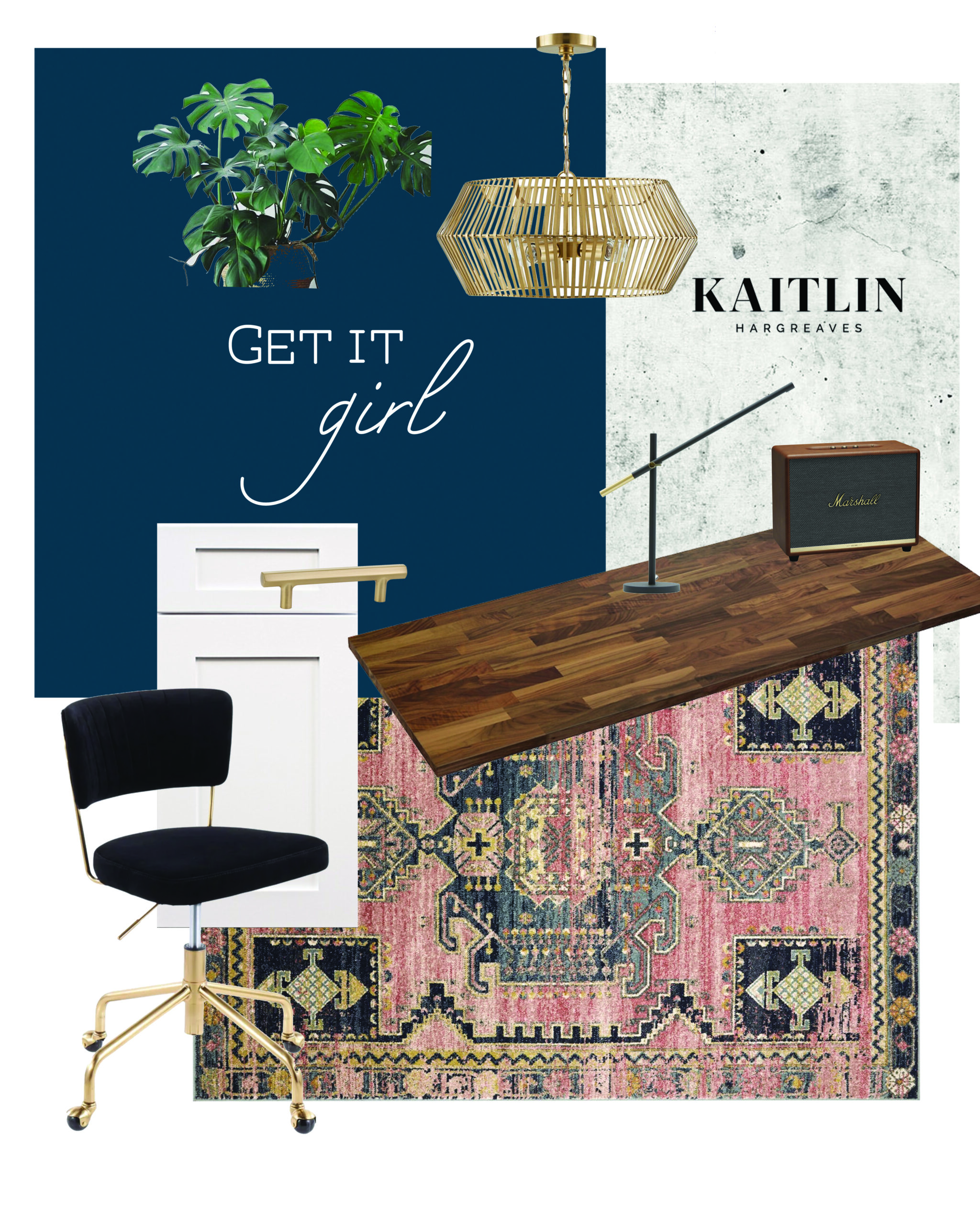 Keep scrolling for the before and after photos, as well as links for all of the amazing pieces and vendors that helped make this stunning space happen.
Doorcare Liftmaster: Garage Door
Before this bad boy came along we had an uninsulated door in the garage. Depending on the season it was either melt your face off hot or hypothermia cold. There was also a TON of noise coming in from outside as well as any time a slight breeze came along the door would rattle. Not only has this door made a world of difference moderating temperature and noise, it's also very aesthetically pleasing with the white powder coated hardware – giving it a less industrial vibe and keeping it clean and bright. Lastly, we upgraded and got a side mount lift to eliminate the track and motor being in the centre of the ceiling. This is great in any garage if you want to gain height, but in my case I just really wanted a pretty light fixture!!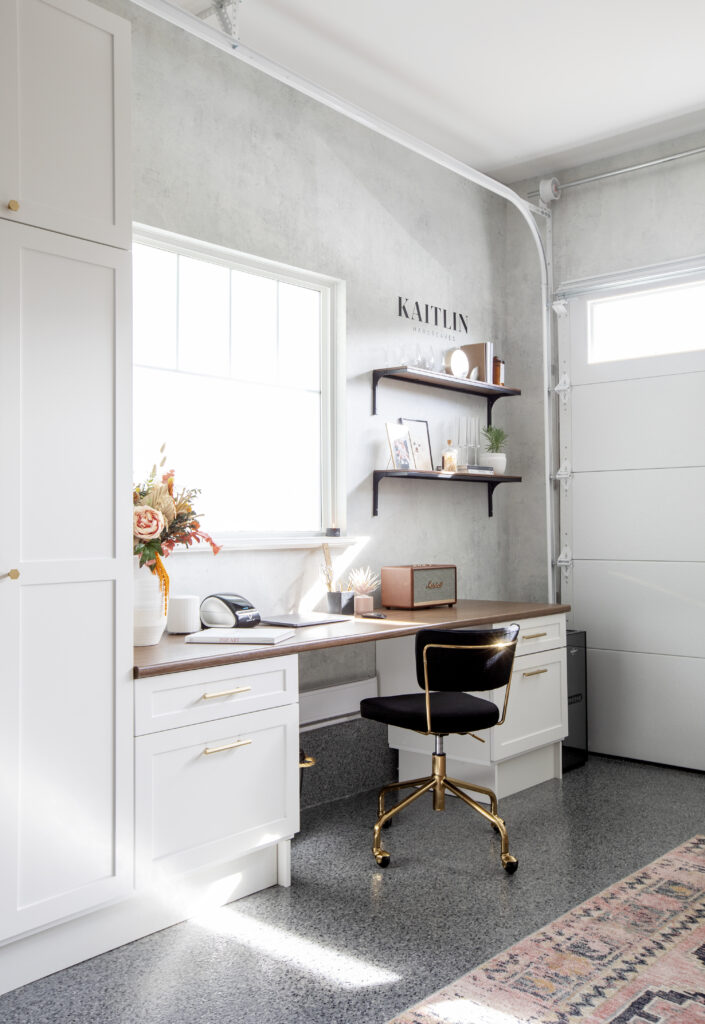 Liberty Floor Coatings: Floors
Our original flooring was concrete, but it was in pretty bad shape. This was likely the most satisfying part of the entire reno. If you followed along on my stories or watched my "Garage Reno" highlight on IG – you were also probably hypnotized by the process. Layers of epoxy and flake applied in the most pleasing of ways. We went with Epoxy style floors so it'd be durable, easy to clean, and most importantly –  able to drive on. When doing a reno of any sort, you want the space to work for you but you always want to keep 'resale' in the back of your mind. Down the road I may not be working from this space anymore and want to park my cars inside again, and future owners may want to use it as a regular garage space as well.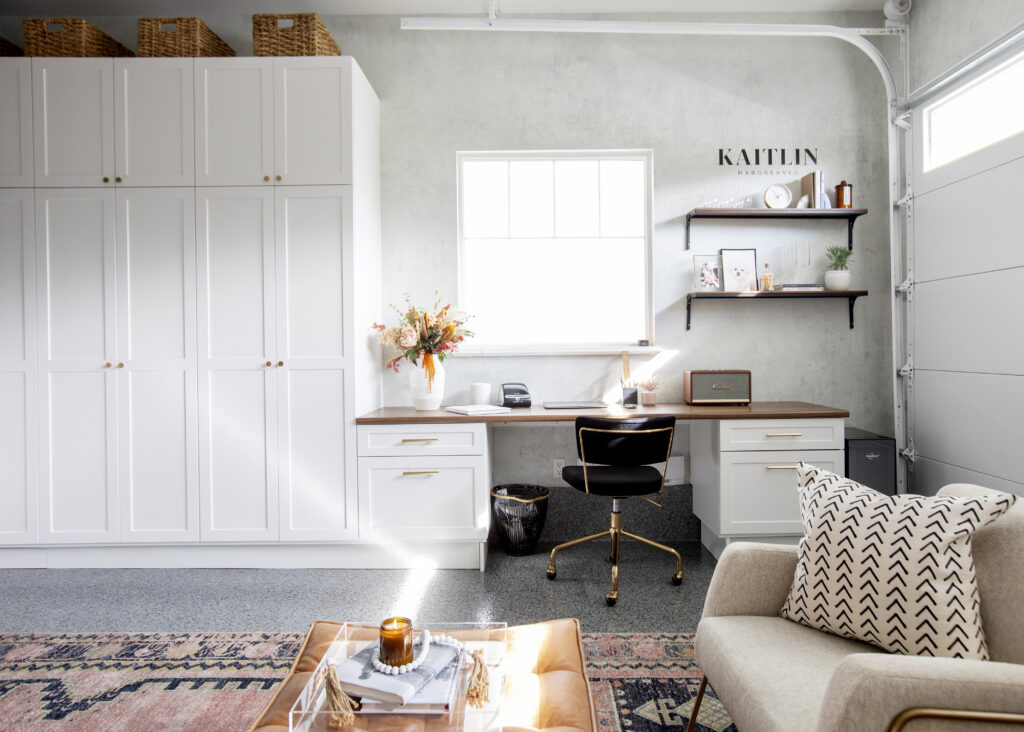 STOR-X Langley/Ridge Meadows: Cabinetry
The cabinetry in my opinion is the most pivotal piece in this project. Keeping everything tucked away neatly and hidden behind doors. This keeps the space looking clean at all times and the adjustable shelving creates the most versatile use of vertical space. Shockingly, although white, these cabinets wipe clean SO easily. One side of the room is all filled with personal items. Garbage/recycling stations, seasonal clothing, camping gear, tools, back stock items for pantry and bathrooms. The other side is my work space. Full of packing supplies, mailers, paper, envelopes etc. There is actually so much storage space that it's not even half full.
The desktop area has 2 shallow drawers on top for miscellaneous items. Below on the left is a pullout drawer for my printer, and on the right is a filing cabinet that holds all my art prints. I wanted this space to function easily without having to move around the entire office to get what I needed. I print all my packing slips and pull all my orders from this space. Highly recommend the lateral filing system as it's easier to pull contents while sitting beside the drawer.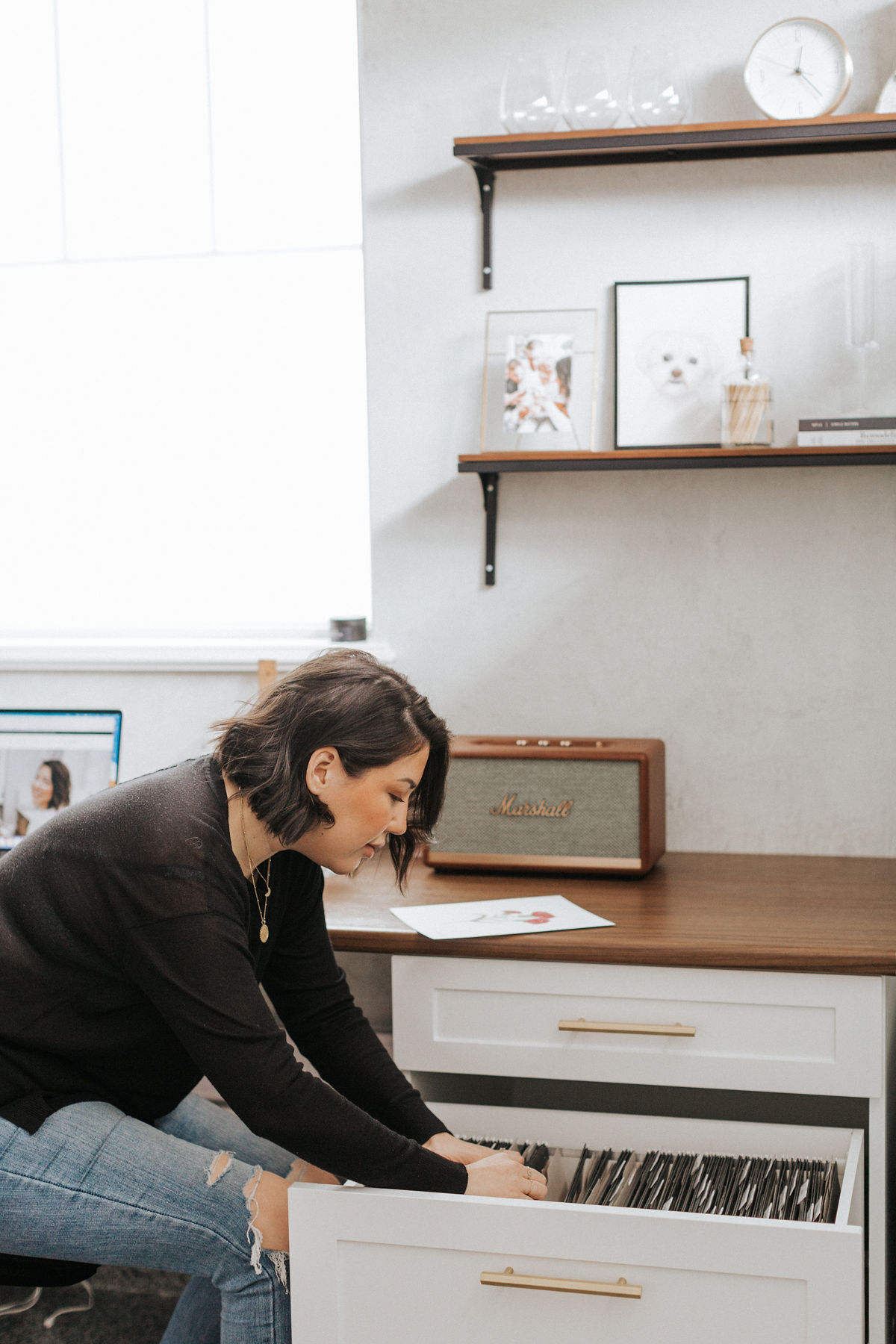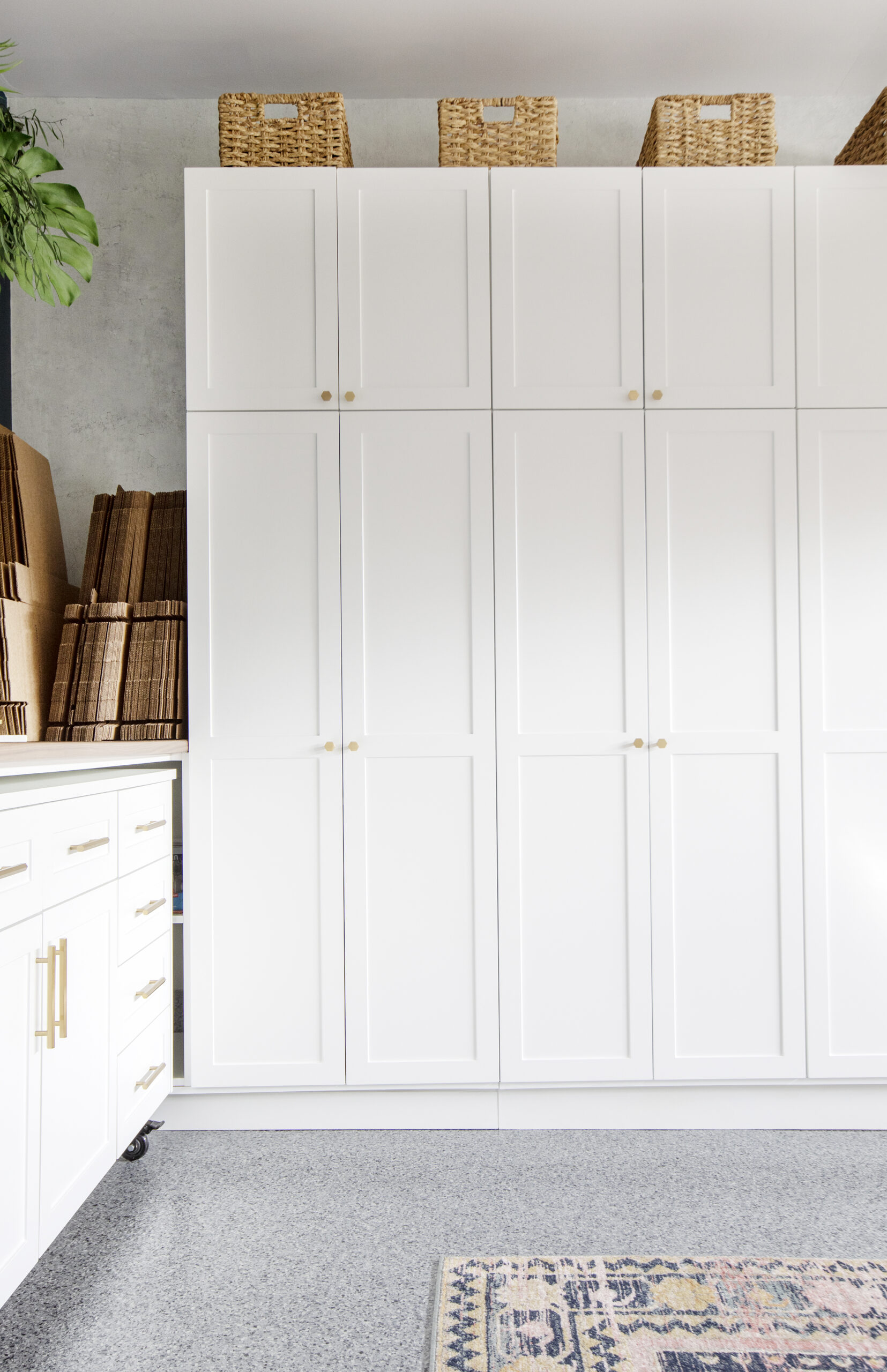 One of my favourite pieces is the rolling island. Designed with larger products launches in mind it rolls out and the back side flips up to double the workspace surface. I can create an L-shape that is easy to maneuver in and plenty of room to wrap up clothing and organize orders. It's also great if Laura is in the office and we can both have separate areas to work on. Within the rolling island I had STOR-X create 6 shallow drawers to keep smaller items like cellophane sleeves, stamps, paper clips etc organized, and 2 larger cabinet doors. The left side has a pull out bin that holds recyclables and the middle is shelving space for larger items. It's on 3" wheels and has handles mounted on the inside of the doors to grip while rolling it around. When it comes to retail and order packing, efficiency is key, so a space the is well laid out, functional and organized will make a world of a difference.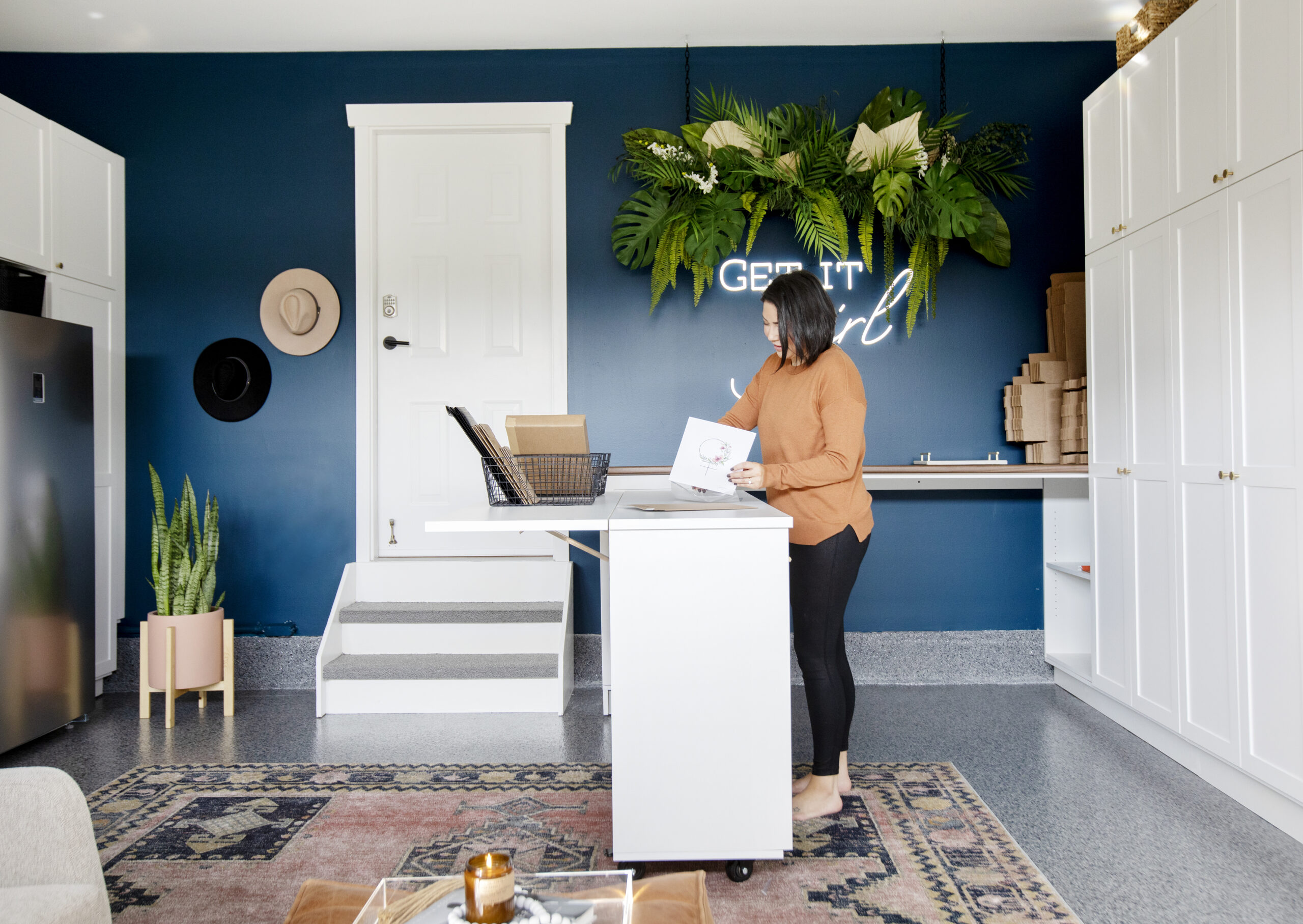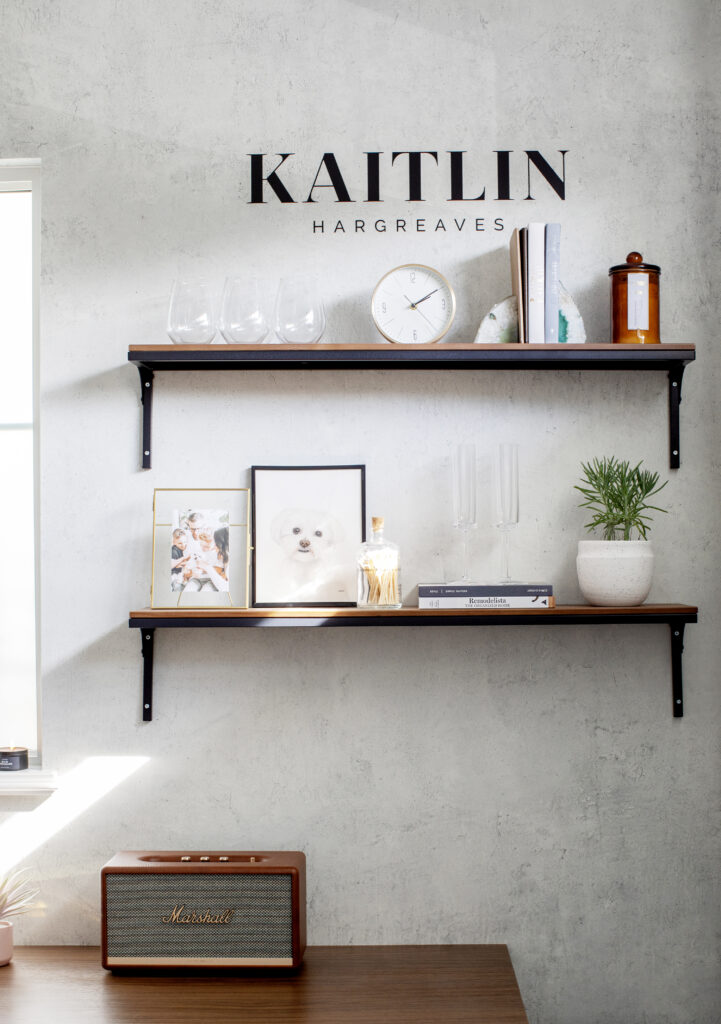 iFresco Wall Coverings: Cement Wall Coverings
Like wallpaper but way better. It's a super interesting material (similar to a dryer sheet with it's translucency and texture) it's applied over a painted white wall. The translucency gives the image printed on it a very life like appearance. The coolest part about this product is the ease of removal – simply wet the wall with a damp cloth and gently peel the product off without any mess (and it's reusable). I went with a warm coloured concrete to give the space some texture and in an interesting way the concrete actually warmed up the space!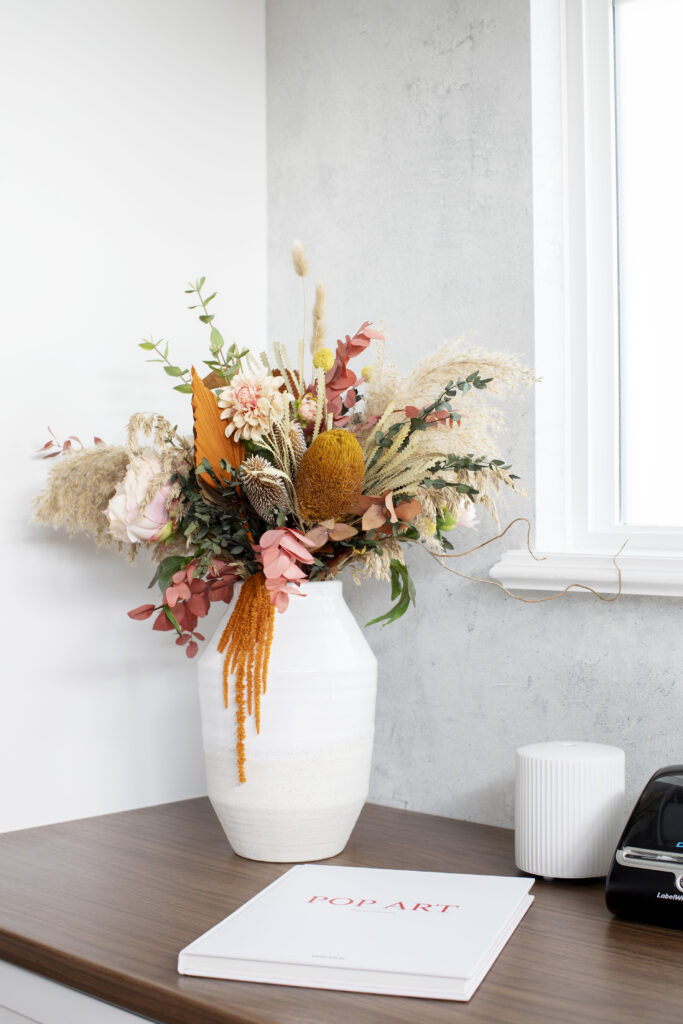 Faux Floral Co: Hanging Greenery & Floral Arrangements
This beauty… a mixture of faux and dried floral, creating the most stunning hassle-free focal point. I dreamed up this stunning piece and it was executed with perfection by the lovely ladies at Faux Floral. They're also responsible for that to-die-for arrangement on my desktop.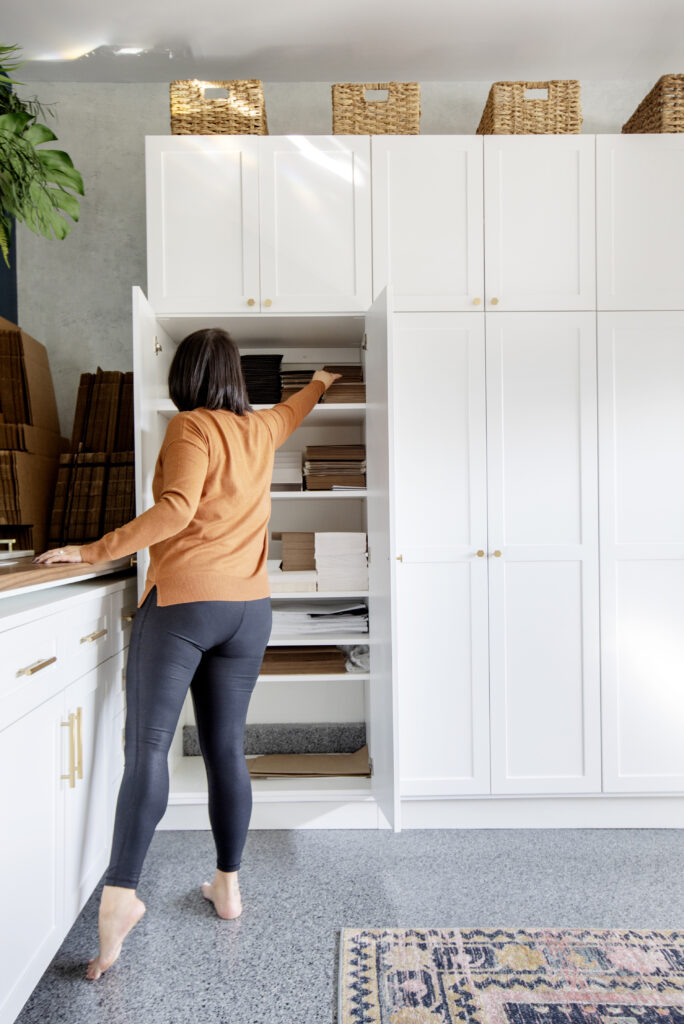 Crescent Living Co: Organizer (read our recent Q&A with her here!)
Jaime… My sweet organizing elf.  One of those weird people who take pleasure in sorting through other peoples junk lol. The garage was a dumping ground for anything that we didn't want to deal with. Usually a VERY overwhelming space for me, Jaime came in and smiled from ear to ear lol. Since the purge and organization of this garage, Jaime has been back several times to declutter and tranquilize all our bathrooms, closets, and the entire kitchen. Believe me when I say a professional organizer is MONEY WELL SPENT!!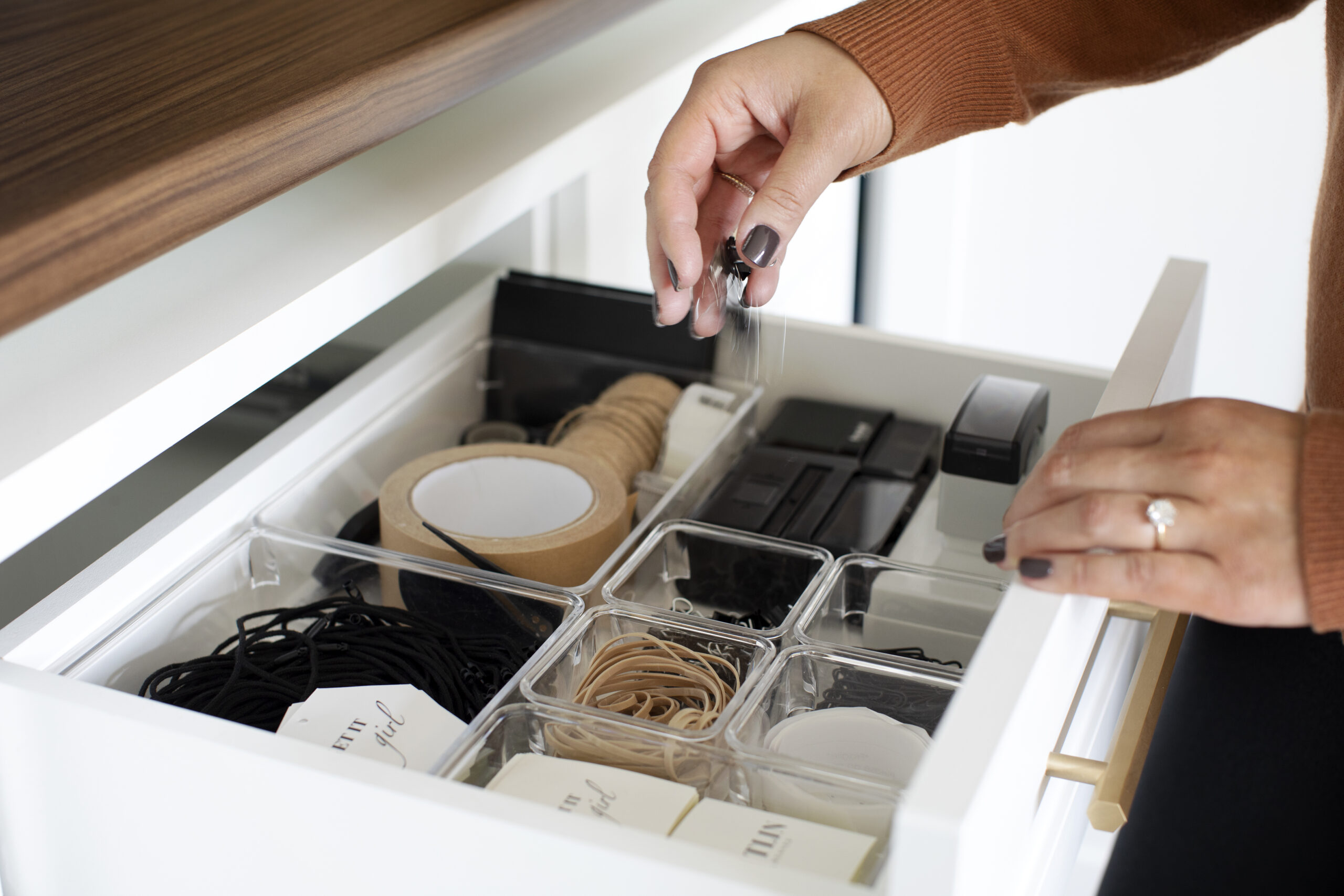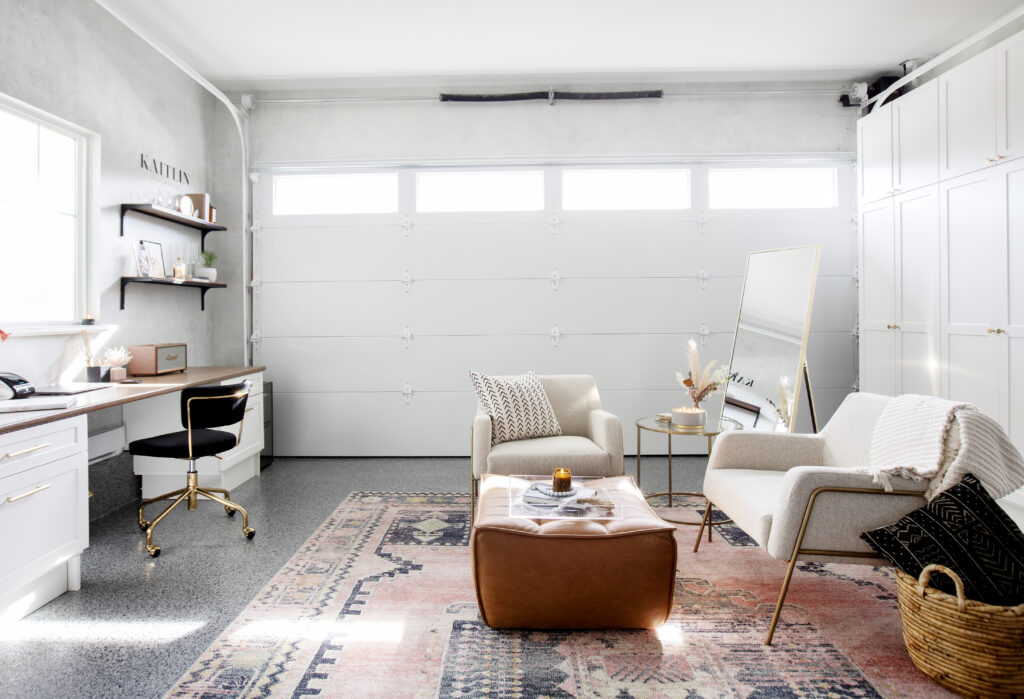 Modern Komfort: Chairs & Rug
With these lounge chairs, comfort definitely meets cute. Perfectly oversized so you can sit cross-legged and cozy up. Probably the most common question asked about this space is where the rug is from. We can all thank the folks over at Modern Komfort for this beauty. The perfect coral pink tones to warm up the space without it being overly girly. (This piece was picked by my lovely friend and interior designer Ally of 1807 Design who also helped me style the space at the end!!)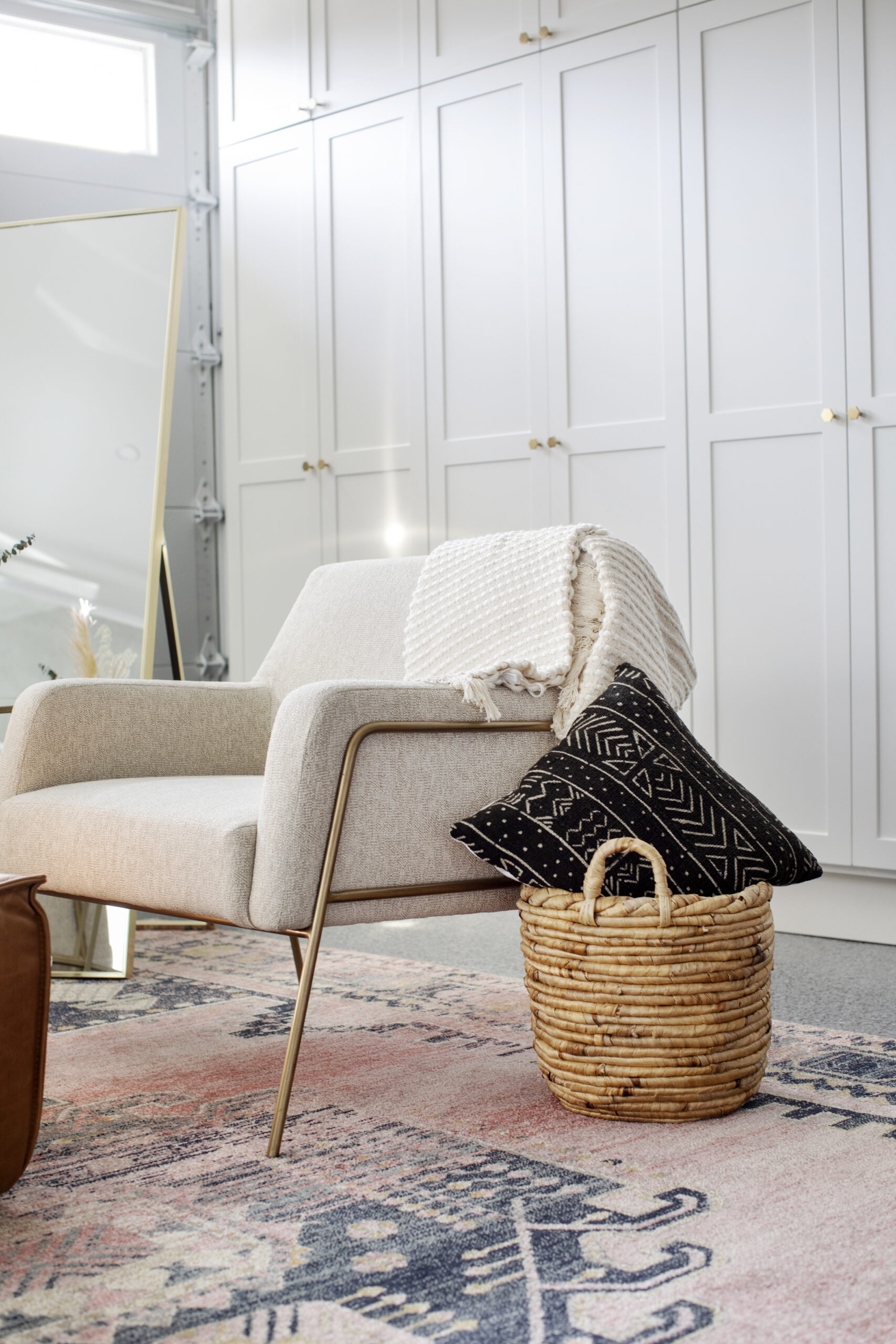 Eclipse Contracting: Construction
Nick is a good friend of mine (we actually met when we needed someone to renovate our kitchen 4 years ago) He's my go-to for any household updates, big and small projects. Even when I changed all my door hardware and handles to black, and I put them on backwards and upside down… he came to rescue me LOL. (I'm not sure if that's a service he actually provides or if I'm just lucky lollll)
Kova Bros Painting: Painters (Wall colour is Hidden Sapphire from Benjamin Moore) | V&Co Design Studio: Neon Sign & Vinyl Logo
Decorative Items
Planter: Hudson & Oak | | Rug: Modern Komfort | Lounge Chairs: Modern Komfort| Office Chair: Wayfair | Plant Stand: Crate No 8 | Black Wire Baskets: H&M (no longer available, but these are similar or these, or these from Amazon) | Gold Knobs: CB2 | Gold Drawer Pulls: CB2 | Marble Tray: West Elm (or similar from Amazon here) | Speaker: Amazon | Wall Shelves: Ikea| Inside the Cabinets: Clear Bins, File Bins, | Candles: CB2 | Champagne Flutes: Crate & Barrel | Stemless Wine Glasses: Crate & Barrel | White Potted Planter: The Cross | Oversized Matches: The Cross | Coffee Table Beads: The Cross | Gold Scissors: Amazon | Book Ends: West Elm | Ottoman: CF Interiors | Acrylic Coffee Table Tray: CB2 | Black Pillow: Townsend Rowe Home | Gold Chandelier: Wayfair | Bulb Vase: CB2 | Wine Fridge: Bed Bath & Beyond | Drawer Organizer: Amazon | Blanket, Basket, Gold Mirror & White Chair Pillow: Homesense
Photos above by Pinecone Camp (Check out Janis's website here)
Before & Afters