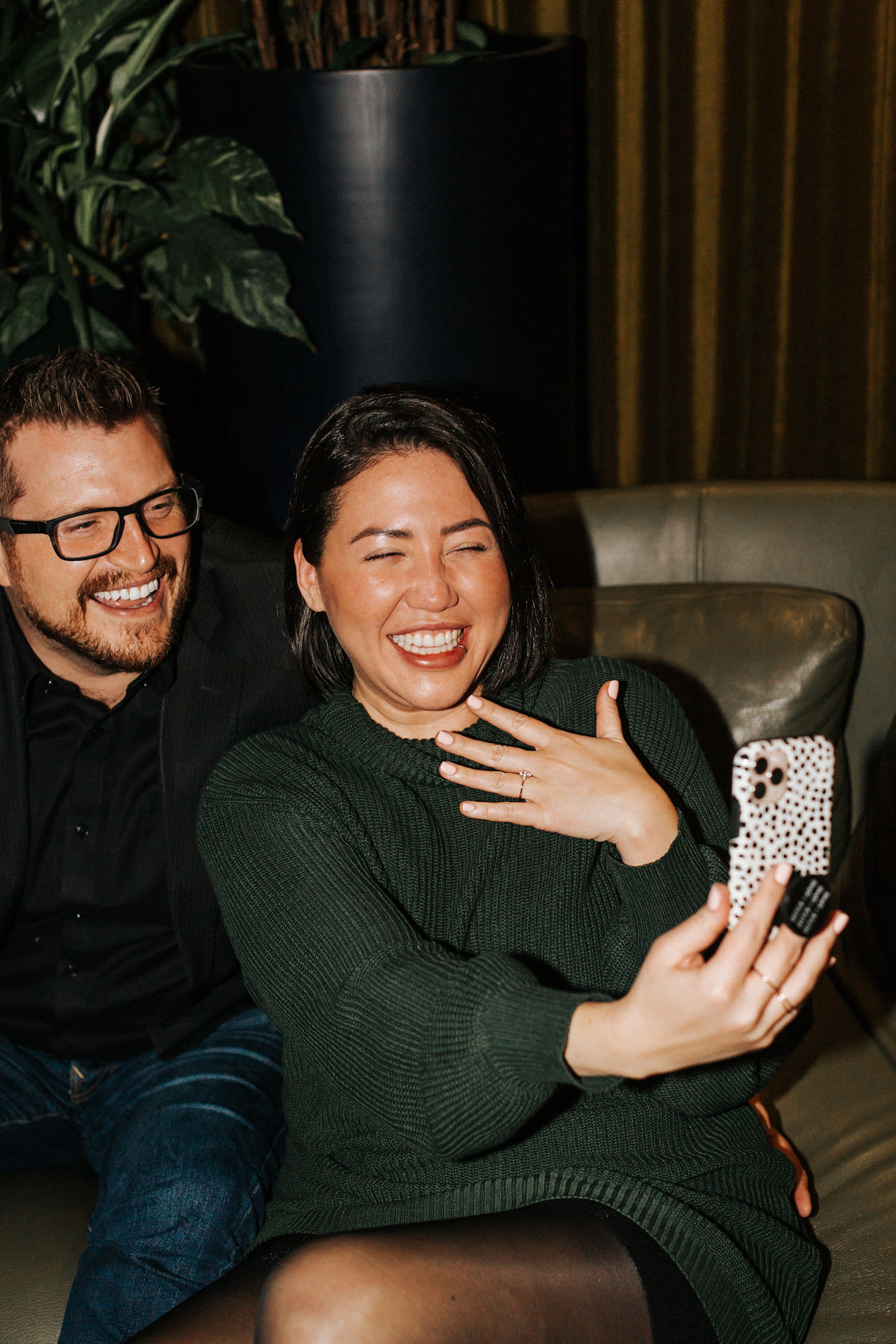 12 Jan

OMG, I'm engaged!!!!!

WOW GUYS. Most of you already know but it still feels freaking surreal saying this… I'm ENGAGED!!!!! I also can't believe it's been almost a month already?! Like where does the time go? The day was SO magical and I feel like I was living in a dreamy haze all week. Ever feel happily drunk when you're not actually drunk?! That's the closest way I can describe it. 

Anyways, enough about me, can we talk about this ring?! This was literally my dream ring I shared with all of my friends in hopes that one day I'd have something even remotely close to it. My little Keithy poo aka future husband (!!!!!!!) and Cavalier absolutely knocked it out of the park with this one.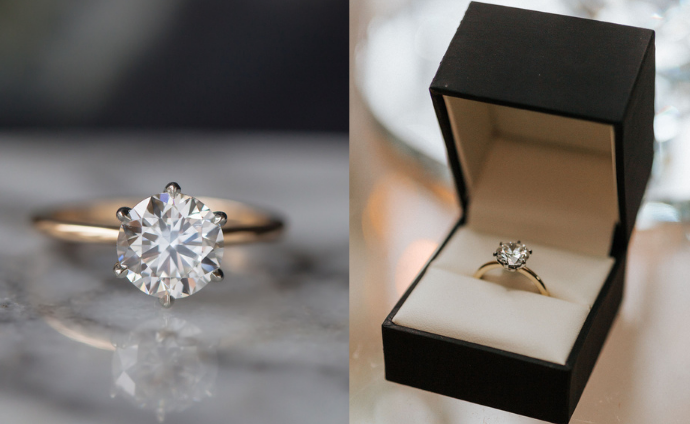 Okay, now that we've introduced the real MVP 👆🏻 onto the actual proposal story…
So in October, Keith and I made plans for a stormy December trip to Tofino for a romantic getaway together. Our plan was to do 2 nights downtown and then take a seaplane over to the island.  Keith had suggested we go "check out some engagement rings" so he knew what I wanted when the time came, and I was obviously excited at the prospect. Little did I know Keith was already master planning my dream ring with Cavalier (sneaky little shit) and plotting the proposal (He started a group chat with some of my closest girls, running details by them and trying to get them to covertly find out my ring size) Well… COVID obviously had other ideas, so we postponed Tofino and just moved ahead with the Vancouver portion of our trip. 
So Dec 13th rolls around, we drive downtown and head out for dinner. After dinner – both tired from long work weeks we went back to the hotel for an early night.  Next day after brunch we headed to Cavalier to "try on some rings". To clarify something,  I've been dreaming about my future engagement ring for oh I don't know, the last 15 years of my life? Lol. Pinterest boards, trying friends rings on, window shopping, so I had a very clear idea of what I wanted. So back in October when Keith suggested we look at rings, I told him I knew what I wanted but it wasn't a bad idea to try things on as maybe what I'd envisioned all along wouldn't be what I'd actually like in real life. 
SO RISKY on Keith's part, to take me to look at rings while he already had my ring custom made and ready to go…like what if I'd tried on an oval diamond or a halo setting and changed my mind hahaha.  Well, lucky for him, when I know what I want… I know what I want lol. 
Dane, the owner of Cavalier, was the one to walk Keith and I through the process, educating us on the differences between lab created and naturally sourced diamonds, getting different options for me to try on and "taking notes" for when we the time came. I found a ring similar to what I wanted, so I told Dane "This would be great but a yellow gold band with white gold prongs, 6 of them to be exact, set a little lower, the diamond as wide as it can be and the band as thin as it can be without comprising the structure". Well, little did I know, the "notes" he was taking was actually him texting Taylor (the amazing woman who was coordinating with Keith this entire time)👇🏼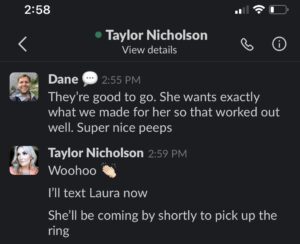 I must say, Dane was as cool as a cucumber in there, never would have guessed something was up. Keith on the other hand, not so much. He was shaky and all walking all over the place, taking pictures and videos of me and looking around at all the staff members. I started to get nervous and thought *Holy shit he's being weird, is he going to propose to me right now!!?!?* 
Well, he didn't. We left Cavalier and I was slightly disappointed that I didn't walk out with an engagement ring haha. But just after we left, sneaky Laura (my right hand gal who works with me) ran in and picked up the ring that had been sitting back behind the counter the entire time! 
So basically, to answer the number 1 question I've received, Keith had already purchased the custom ring from Cavalier and the whole "ring browsing" was all a ruse. 
(Screenshots from my IG stories that day👇🏼 – Realizing now that the shaking was him waiting to find out if the ring he had made was what I still wanted LOL.)
Side note: When we first got to Cavalier I had posted on Instagram Stories telling my followers we were going to look at rings. Many of which DM'd me with squees of excitement. A little back story – for the past 3 years or so, ANYTIME Keith and I go away somewhere, my followers would message me and say "HE'S GOING TO PROPOSE FOR SURE" or "OMG THIS WOULD HAVE BEEN THE PERFECT PROPOSAL" and after said weekend away, they'd message with "WHAT THE HELL KEITH, WHAT ARE YOU WAITING FOR?!?!?" So needless to say, there was a lot of build up to this moment lol. 
After trying on rings (and being completely thrown off) we went back to the hotel room to relax before our 5:00 cocktails reservation. I then went back on IG stories and teased my followers with a video of me slowly bringing my hand into frame as if I had a ring on. Keith is behind me internally laughing his ass off because while I was punking them, he was in fact punking me #punkception. 
We then headed to the Fairmont Pacific Rim for some cocktails in the Lobby Lounge before dinner at Botanist. Little did I know that Botanist wasn't even open that day (LOL). Meanwhile, my girls Laura & Laine were upstairs putting the final touches on the most perfect evening. 
Check out the sneaky pic Laine caught of us on the way to drinks👇🏻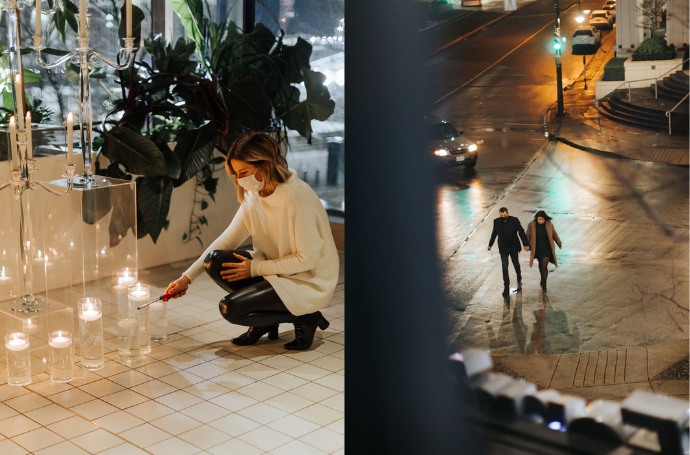 Me oblivious to the fact that moments later I'd be an engaged woman… and Keith… well Keith was pretty close to shitting his pants right about now.
After sitting down and ordering some drinks, Keith excused himself to "go to the bathroom". He was panicking because the stairway up to the Botanist (where the proposal was happening) was in PLAIN VIEW of where I was sitting. So he's even closer to soiling himself now because he doesn't know how to get up there without me seeing that he did not in fact go to the bathroom. On his way he notices and physically says to himself "ELEVATOR!" (which he told me later, that if anyone heard him they'd think he either really loves elevators, or is just super lazy lol) So he went up and got into place.  From there, one of the Fairmont staff members came up to let me our table was ready and that they caught Keith on the way out of the bathroom and he was "already upstairs"… It was in this moment I knew something was up. 
After walking up the stairs, heart racing, trying to listen to the small talk from this nice gentlemen while also trying not to fall face first up the stairs, He told me it was safe to take my mask off, and that my table was "just down there". Ok so now my heart was basically in my butt… I know covid rules… you can't take your mask off until you SIT DOWN at your table… so I'm freaking out now. I take my mask off and he swiftly veers off and is gone instantly. I walked towards the music, and there he was, my beloved Keith, standing in front of the most gorgeous set up, candles, flowers, and a sign above him that said "Will You Marry Me". I basically blacked out from adrenaline LOLLL, and just started saying STOP, over and over, and then "can I put my things down?".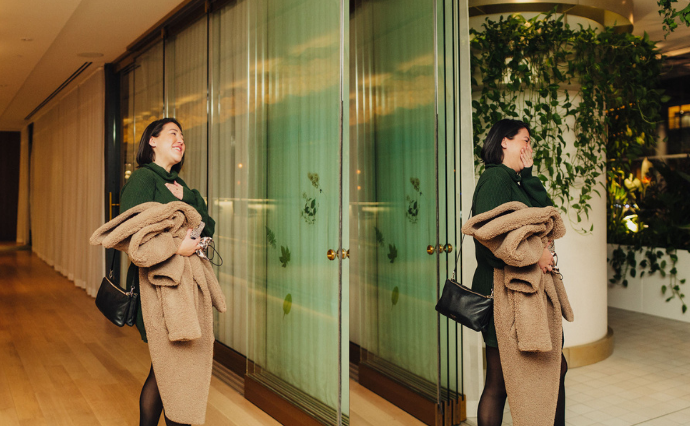 Keith had a beautiful, heartfelt speech planned, which I don't recall cause of the blacking out bit, got down on one knee and asked me to marry him *cue happy tears*.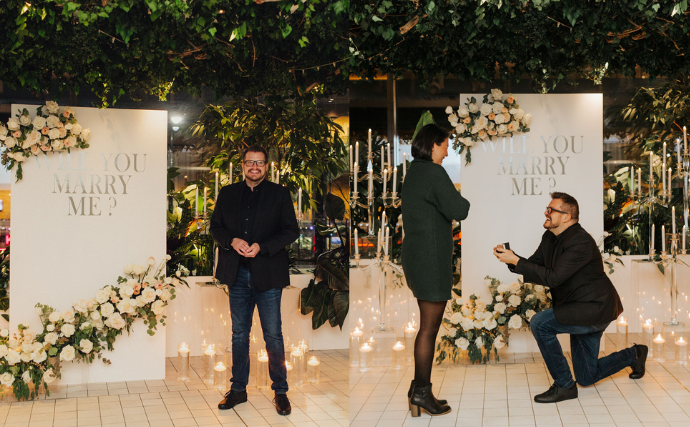 From there we popped some of our FAVE bubbly from Poplar Grove Winery and celebrated in a private room downstairs and my girl Laine got some incredibly candid photos showing our undeniable happiness. 
Keith literally thought of all the details and I couldn't have asked for a more perfect proposal. He went above and beyond but definitely wouldn't be possible without a few key people. First, Laura – my rockstar and number 2, and Libby/my amazing team at INF. They were in on it from the beginning and pulled together the most amazing vendors to help make the day happen, even amid all of the pandemic chaos. Fairmont Pacific Rim for the stunning venue and incredible staff. Florals, decor, bubbly, music, and all the other vendors that jumped on board. And of course Cavalier for creating the most beautiful ring I have ever seen in my entire life!!!! 
Below is a list of vendors that help make this day possible: